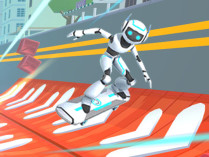 Turbo Stars
Turbo Stars is a fun street skate game where you can practice your skateboarding skills in street races with other players. In this game you will participate in a skateboarding competition held in the city center. You will compete with others. It will all start after the signal. After the signal to start, all will speed up and show off their peak skateboarding skills. On the track you will encounter obstacles; You will have to dodge all of them and pass your opponent safely, trying to go as far as you can. In addition to the obstacles on the track, you will encounter speed signs scattered across the track. To speed up overtaking your opponent, you will go on roads with speed signs to quickly overtake your opponent. When you collide with obstacles on the way, you will lose. So stay focused and skillfully dodge the obstacles. Don't hesitate to join the game and show your amazing skateboarding skills to us. How far will you go? Join now and explore your limits.
In addition to sports games, on our website there are many other interesting games such as Ball Puzzle, Fruit Mahjong,... Join now and don't miss any games on our website.
How To Play
Hold down the left mouse button to control the character in the skateboarding game and perform excellent skateboarding skills.