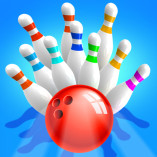 Mini Bowling 3D
Mini Bowling 3D is an extremely interesting bowling game in which you will play bowling on many different levels, giving you the best bowling feeling. Your goal in this game is to knock out all the targets in each level. You will only have three hits in each level. If you use all three rolls without knocking out all the targets, you will fail. If you beat all the targets, the system will move you to the next level in the game. How many levels will you pass in this game? Join the game and show us your bowling skills. If you find it interesting, don't forget to share this game with your friends!
There are also many other interesting sports games on our website waiting for you to discover them, such as Crazy Tennis, Black Hole Billiard,... Join now and don't miss any exciting games
How To Play
Hold down and drag the left mouse button to roll the bowling ball to hit the target.