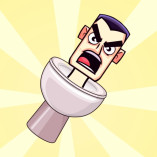 Skibidi Toilet Basketball
The unusual sport of Skibidi Toilet Basketball combines two popular games: the renowned Skibidi Toilet game and basketball. To accomplish each level, you must aim correctly and chuck your head into the toilet while collecting three stars. You'll advance to the next level of difficulty with each successful toss. The challenge gradually ramps up throughout the course of each level. You need to faithfully compute the head's trajectory and orientation in order to flush the toilet. How far into the game do you think you can get? Come in right now to test your boundaries in this exciting game. Best of luck.
There are plenty of other fun sports games out there to play, such as Dunk Shot, Basketball King,... Don't be left out; sign up right away.
How To Play
You can aim by holding down the mouse button and dragging it, and then releasing it to throw.